 OVForm helps UK vets get time back by automating Animal Health Certificates
Struggling to squeeze AHCs into your day? Generate a complete, fully compliant AHC in minutes with OVForm!
Get started
Try it for free! Get 5 × free credits when you sign up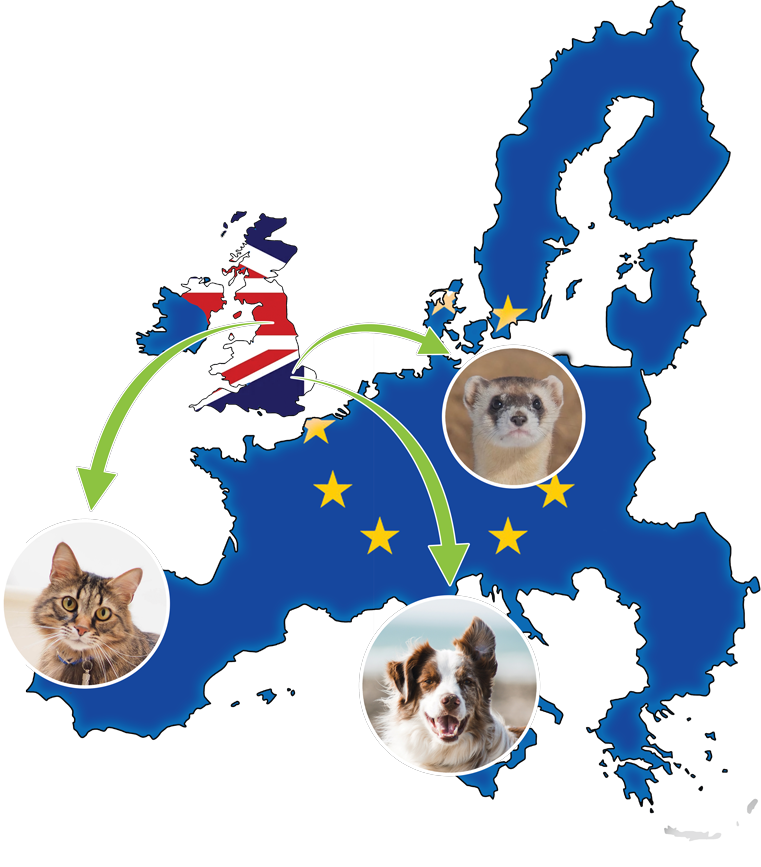 Everything you need
All-in-one platform
Watch the video below to see the whole process and the resulting AHC in as little as 5 minutes!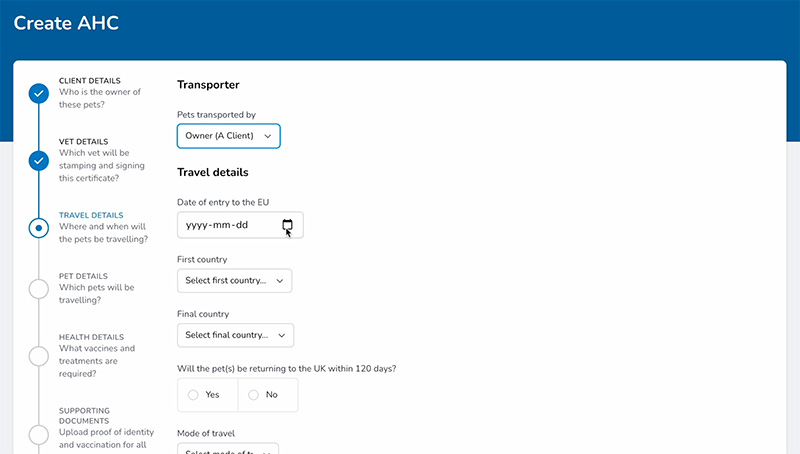 Invite team members

Vets and support staff can all collaborate on certificate completion.

Manage clients, vets & pets

Client and pet information is stored making the forms very quick for repeat travellers.

Generate certificates for all EU-countries

Our system automatically generates certificates ready to sign in all EU languages.

Data validation

Get warnings if information is missing or dates are not valid.

We currently don't support

Pets younger than 15 weeks
More than 5 Pets travelling for shows/competitions
Tattoos as identification

In our experience these scenarios are very rare. However if you regularly encounter such cases please

contact us

. We'd love to know how to make your work easier.
The OVForm website has helped my colleagues and me be less scared of the AHC issue massively ;) & saved a lot of time!
It was quite easy and I felt like I hadn't worked hard enough on it (which was epic) and will be SO great for repeat clients and pets!
Each step laid out very logically, much less margin for error than when doing by hand
How much time can we save you?
Most practices allocate an hour for AHC appointments which includes the time required to scan microchips, fill in forms, administer tapeworm treatment (if required), certifying and copying the final document. Because OVForm generates the AHC in 5 minutes or less, it reduces the total time needed to issue an AHC to under 30 minutes.
Consider how many AHCs your practice issues a week and see how much time your vets could save using the slider below.
Completing certificates per week could save you hours!
Pricing
We operate on a credit system where 1 credit equals 1 generated certificate:
51+ credits?
Get in touch and let's work together!